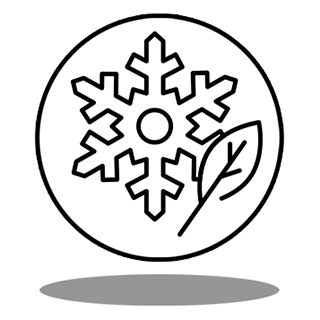 Refrigerants circulate as a working medium in the refrigeration circuit and transport heat from the cold to the warm side of the process. The refrigerant choice is crucial for the cycle efficiency in heat pumps and refrigeration applications. In addition, different refrigerants have varying degrees of global warming potential, toxicity and flammability, which also places special demands on their technical implementation in refrigeration circuits.
The F-Gas regulation of the European Union specifies that the use of climate harmful refrigerants be drastically reduced. Therefore, system and equipment manufacturers must either develop new systems or convert existing systems to adapt to the new requirements. Natural refrigerants such as propane (R-290), propene (R-1270) and ammonia (R-717) offer good possibilities which are technically feasible. However, these refrigerants also require new approaches for plant safety.
Fraunhofer ISE is focusing on sustainable, efficient and long-term solutions using natural refrigerants such as propane or water. Propane, which is climate-friendly but also highly flammable, is becoming increasingly attractive as a working fluid in heat pumps for heating applications. At Fraunhofer ISE we develop solutions which enable its safe and efficient use.