Press Release #26
Researcher from Fraunhofer ISE Receives Ulrich Gösele Young Scientist Award - Dr. Martin Schubert Distinguished for Research Results on Impurities in Multicrystalline Silicon
Dr. Martin Schubert of the Fraunhofer Institute for Solar Energy Systems ISE was awarded the Ulrich Gösele Young Scientist Award 2013 for his research work on the measurement, simulation and origin of impurities in multicrystalline silicon. The award ceremony took place on October 23, on the occasion of the 7th International Conference on Crystalline Silicon for Solar Cells (CSSC-7) in Fukuoka, Japan.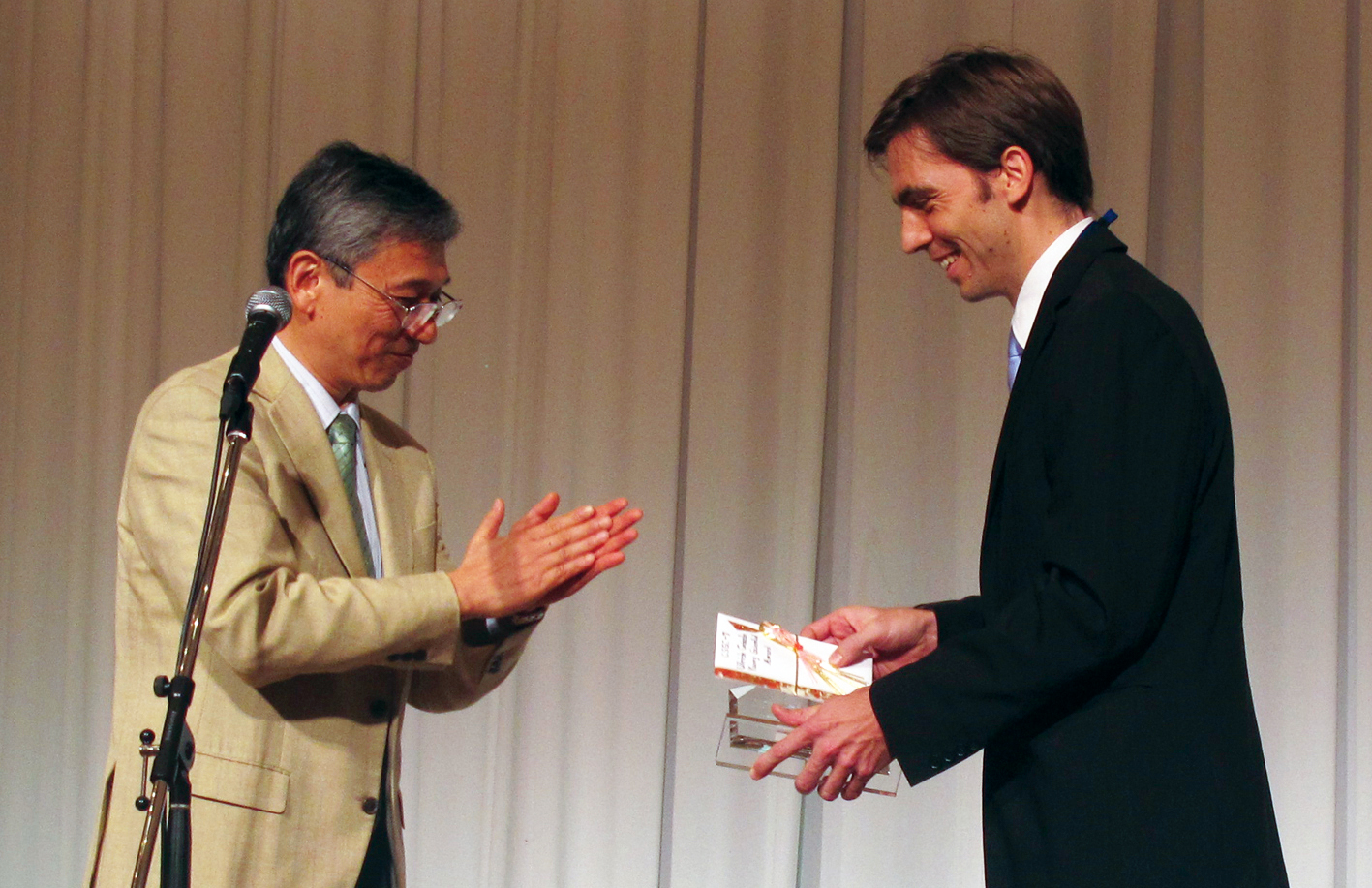 "We are very pleased that Dr. Marin Schubert received this prestigious award. For many years, he has been working on the characterization and quality assurance of silicon material, among other topics. His scientific work has made a major contribution to the research and development in this area," says Dr. Wilhelm Warta department head of "Characterization and Simulation" at Fraunhofer ISE. Martin Schubert has been working at Fraunhofer ISE since 2004. As of 2012, he is the group leader of "Material and Cell Analysis."
Schubert's research focuses on the development of luminescence-based characterization methods, the simulation of impurities in silicon as well as cell characterization through imaging. In particular, he is investigating the influence of metals on the solar cell efficiency. For his excellent research results in this area, he received the Ulrich Gösele Young Scientist Award, which was presented by Prof. Koichi Kakimoto, conference chairman at the 7th International Conference on Crystalline Silicon for Solar Cells (CSSC-7) in Fukuoka, Japan. At the conference, Martin Schubert gave an invited talk on the influence of crucible impurities, like iron and cobalt, on the silicon quality.
Dr. Martin Schubert studied physics at the University of Montpellier in France and the University of Freiburg, Germany. He received his Ph.D. in physics from the University of Constance, Germany and wrote his thesis on the "Detection of Infrared Radiation to Determine the Material Quality of Solar Silicon." On a research fellowship from the Japan Society for the Promotion of Science (JSPS), Schubert is working as a visiting professor at the Meiji University in Tokyo and at the Japan Aerospace Exploration Agency (JAXA) since 2013. There he is researching spectroscopic methods for the investigation of silicon.
The Ulrich Gösele Young Scientist Award
Since 2011, a jury made up of CSSC conference members has presented the Ulrich Gösele Young Scientist Award to young scientists who have achieved excellent results in the field of silicon research. The award distinguishes scientific-technical contributions in the areas of silicon feedstock, crystal growth, wafer manufacturing and defect engineering. It is named after Prof. Dr. Ulrich Gösele, who, among other things, was director of the Max Planck Institute of Microstructure Physics in Halle. Today he is regarded as one of the most authoritative experts in the field of the semiconductor physics and technology.