Press Release #23
Advancing Perovskite-Silicon Tandem Solar Cell and Module Technology to Industrial Maturity
Stacking a solar cell made of perovskite material on top of a conventional sili-con solar cell enables a more effective use of the solar spectrum, compared to a pure silicon solar cell. Scientists around the world are presently conducting research on these perovskite-silicon solar cells, focusing on stability, durability and industrial manufacturing processes. Between 2020 and 2022, researchers at the Fraunhofer Institute for Solar Energy Systems ISE, together with industry partners, developed technologies for the production of perovskite-silicon full-format PV modules in the joint project "SWiTch". At the cell level, the research teams in the Fraunhofer lighthouse project "MaNiTU" and in the project "PrEs-to", funded by the German Federal Ministry of Economic Affairs and Climate Action BMWK, succeeded in scaling up perovskite-silicon tandem solar cells from laboratory cell size to wafer size. Within the framework of a recent col-laboration agreement with Meyer Burger, Fraunhofer ISE will further intensify its activities in the field of tandem solar cells and modules.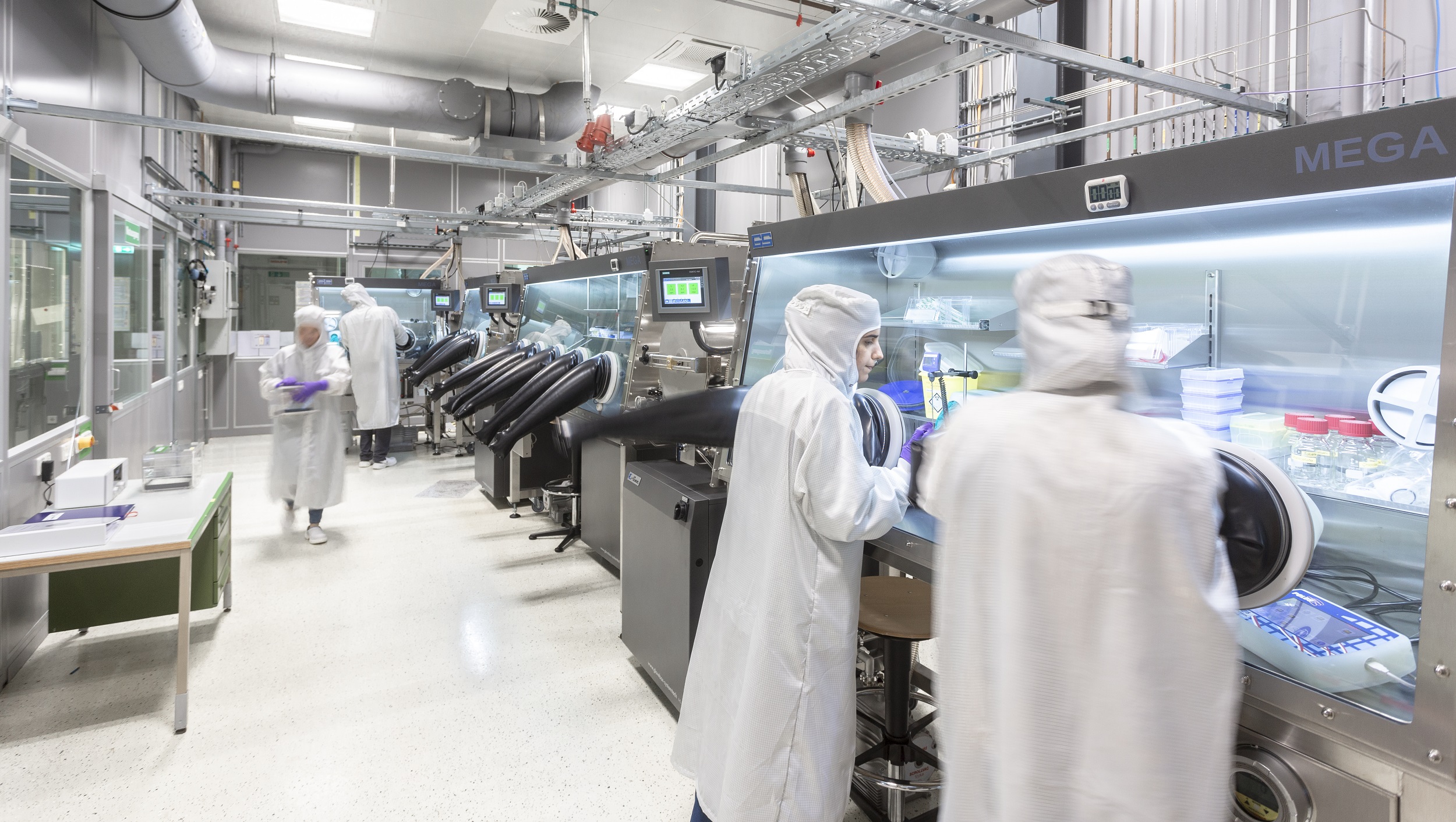 Perovskite-silicon tandem solar cells represent another further development of the conventional silicon wafer-based solar cell technology. Here a perovskite solar cell with a wider band gap is stacked on top of the silicon solar cell to make better use of sunlight. "Efficiencies of over 35 percent are possible with these tandem solar cells," says Prof. Dr. Andreas Bett, institute director at Fraunhofer ISE. "Laboratory-scale perovskite-silicon tandem solar cells have already overcome the silicon cell's theoretical upper efficiency limit of 29.4 percent, showing promise for even more efficient solar cells in the future."
Scaling of the laboratory cells to wafer size
On a laboratory scale, the best published efficiency of a perovskite-silicon solar cell is currently 31.3 percent. However, these laboratory solar cells have a small cell area of around 1 square centimeter, and most of the manufacturing processes used in the laboratory to date cannot be used for industrial production. "We are therefore very pleased that we have succeeded in achieving a certified efficiency of 22.5 percent for a perovskite-silicon solar cell with an area of more than 100 square centimeters and with industrial screen-printing metallization. Our aim is now to realize the high efficiencies of our small laboratory cells on large-area cells using scalable fabrication methods," says Dr. Patricia Schulze, solar cell scientist working in the "MaNiTU" project at Fraunhofer ISE. In particular, the Fraunhofer researchers are working on a hybrid deposition process based on two established manufacturing processes to produce perovskite solar cells on double-sided textured silicon solar cells.
First full-format modules built
In the joint project "SwiTch", Fraunhofer ISE developed interconnection and encapsulation solutions for tandem solar cells together with the project partners. "The interconnection and lamination processes had to be understood and adapted in such a way that the perovskite-silicon solar cells can be integrated into the module without damage, at low cost and with long-term stability," says Dr. Holger Neuhaus, department head of Photovoltaic Modules at Fraunhofer ISE. First module prototypes with an output of 430 watts peak have already been produced. The development was accompanied by a detailed analysis of cell-to-module losses and work on the long-term stability of the tandem PV modules. As part of the joint project "SALTO", Fraunhofer ISE was able to establish Meyer Burger's patented SmartWire interconnection technology (SWTC™) for full-format modules at Fraunhofer ISE. This low-temperature technology is suitable for interconnecting silicon-perovskite solar cells, in contrast to conventional soldering processes.