Press Release #19
New Test Field for Solar Technologies Combines Laboratory and Field Measurements
Rigorous tests on photovoltaic (PV) modules, integrated PV systems, solar thermal collectors, inverters and other solar technologies are carried out, for the most part, in an indoor laboratory environment. Accompanying these are the long-term tests under real weather conditions lasting several years. Now researchers at the Fraunhofer Institute for Solar Energy Systems ISE want to use the newly constructed, three-hectare test field near Freiburg, Germany, to combine the results from both test approaches. In particular, PV modules will be able to be evaluated faster and more accurately, by combining and comparing indoor laboratory measurement results with those from the test field. Today, Fraunhofer ISE ceremoniously opened its new outdoor testing facilities in Merdingen.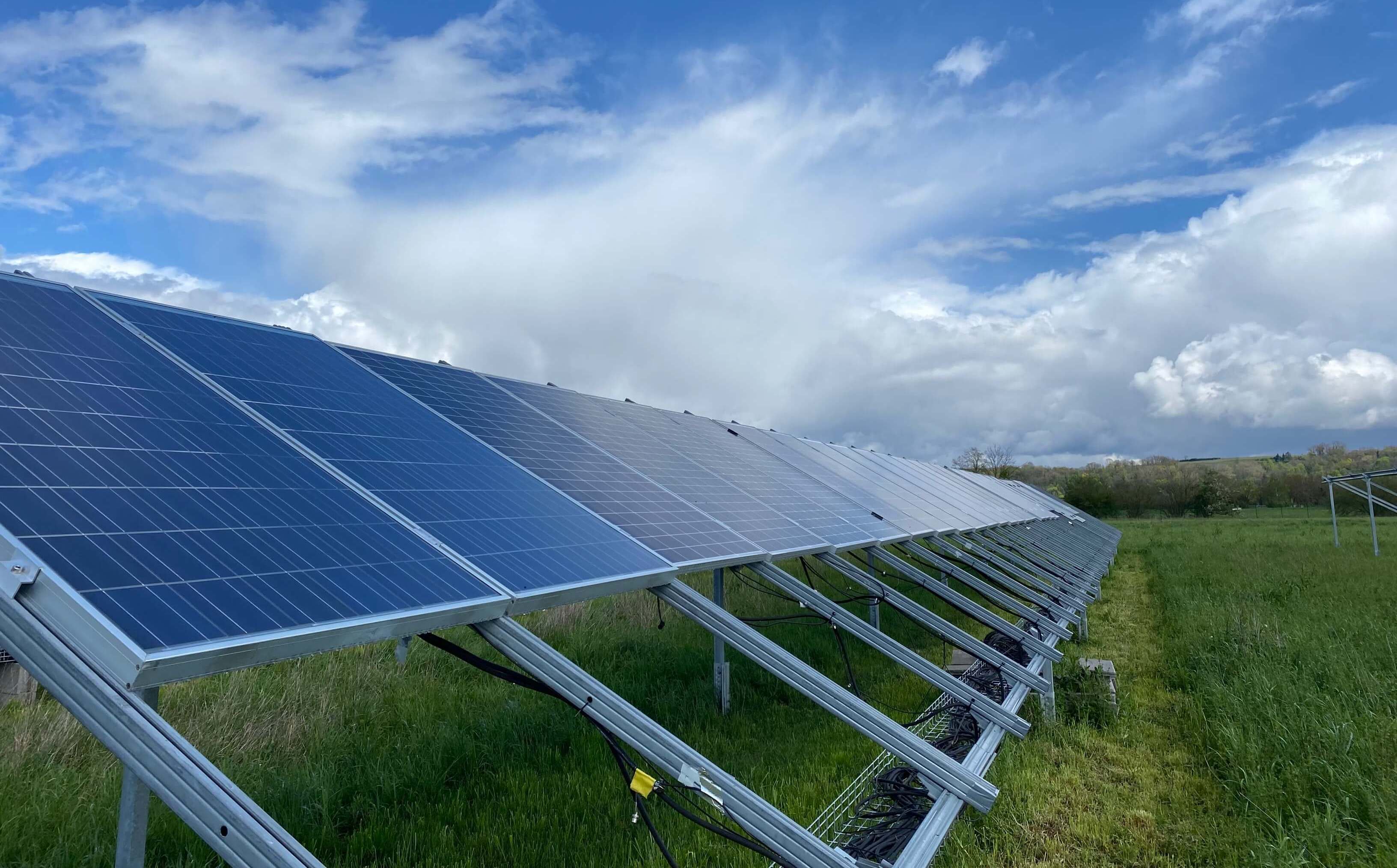 "The new Outdoor Performance Test Field in Merdingen provides us with the needed space to perform outdoor tests on a wide variety of solar technologies with state-of-the-art measurement technology," said Prof. Dr. Andreas Bett, institute director at Fraunhofer ISE, at the opening ceremony. "The test results will enable us to gain important knowledge which can be used to further improve module performance and reliability." The new location complements Fraunhofer ISE's test fields on Gran Canaria and in the Negev desert in Israel, which allow prototypes and innovative products to be tested in various climates under extreme temperature fluctuations or exposure to salt air.
Predict Reliability and Degradation of PV modules
"We can now compare results from PV modules exposed to maritime, arid and our temperate Central European climate with measurements from our accredited indoor PV Module and Solar Thermal TestLabs," said Dr. Christian Reise, project manager of the test field in Merdingen. In combination with simulations based on solar irradiance data, PV modules can be characterized much faster than was previously the case up to now when using one year of outdoor measurements.
In the "MiMoRisk" project, headed by Fraunhofer ISE, procedures are being developed for minimizing module-related yield risks in future PV power plants and for the early identification of technological and design-specific degradation risks. The project is funded by the German Federal Ministry of Economics and Climate Protection BMWK. "The analyses from our joint research project assists the PV industry, especially module manufacturers and project planners of large ground-mounted systems. It also shall provide valuable insights for insurers on risk assessment," said Simone Steinbach, a member of Munich RE's Green Tech Solutions team, who attended an accompanying workshop that took place the day before the grand opening.
Investigation of PV Noise Barriers and Agrivoltaic Systems
One part of the Outdoor Performance Test Field is dedicated to the study of integrated PV technologies. Currently, within the PVwins project, different types of PV noise barriers are being erected on the site to test their electricity yield and noise protection performance. This test stand will also be available for measuring and comparing different photovoltaic noise barrier concepts even after this project ends. In this way, planned projects can be tested on a small scale before the actual construction in the practice begins.
On another part of the test field, the construction of various height-adjustable agrivoltaic systems will soon be under way. In the VAckerPower project, funded by the German Federal Ministry of Education and Research BMBF, scientists will investigate the suitability of elevated agrivoltaic systems and non-elevated, vertical agrivoltaic systems as well as the suitability of different PV modules for arable farming. Also, a Fraunhofer ISE research team will compare tracked PV modules with static reference PV systems in the "DeepTrack" project, funded by the Baden-Württemberg Ministry of Economics, Labor and Tourism. In this project the team will use AI methods to optimize the tracking angle of the PV system for electricity yield, plant growth and system protection.