EUREC Workshop "Strength through cooperation – Europe's PV Value Chain working together", June 9, 2021
EUREC - The Association of European Renewable Energy Research Centers – is holding a public workshop "Europe's PV Value Chain Working Together" on 9 June from 13:30 to 16:30 CET. The online workshop will focus on the possibility for new players in European PV cell manufacturing to work together to achieve cost-efficiency. The agenda also features presentations from research centres on cell technologies at different stages of maturity.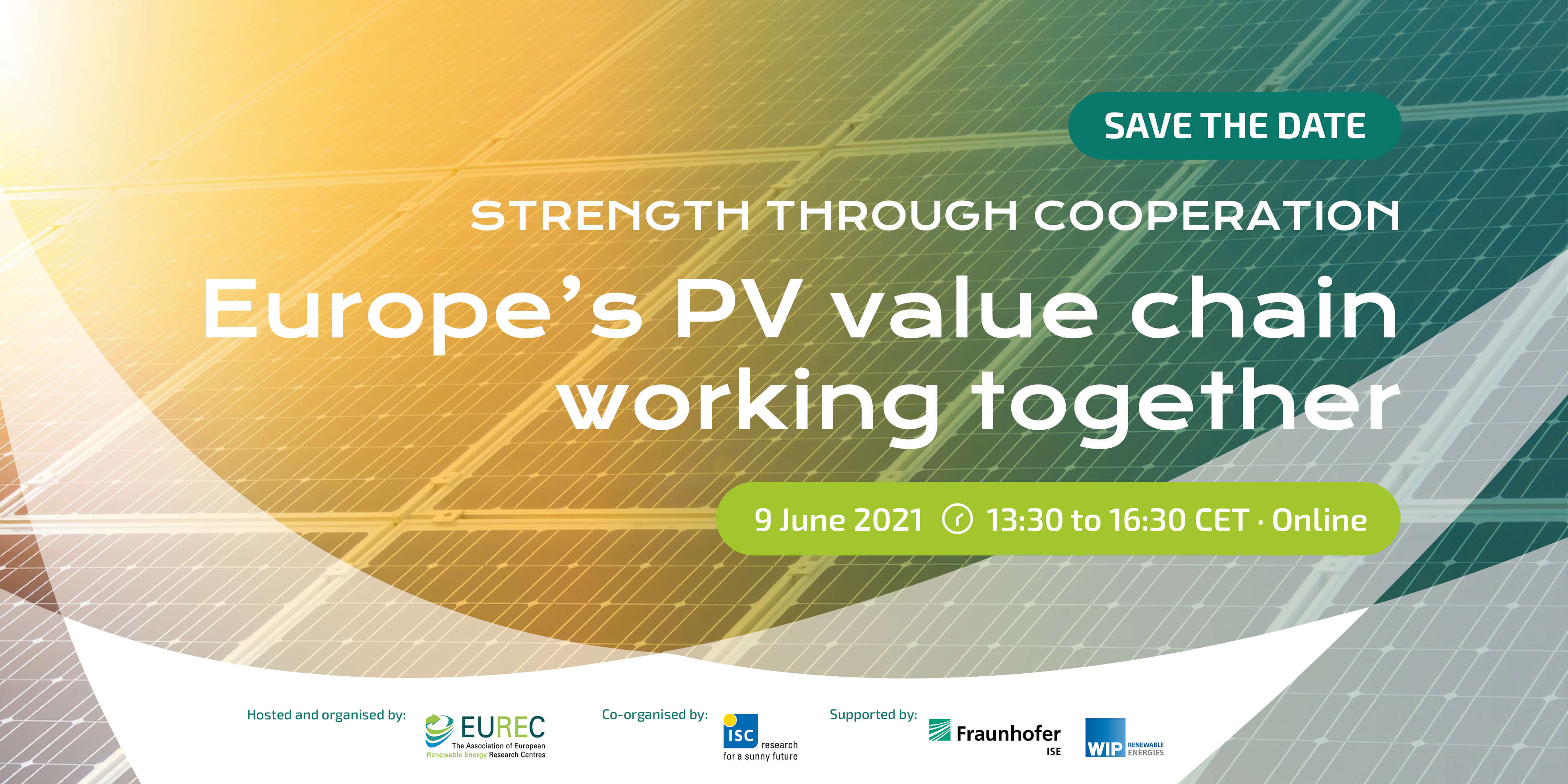 The public workshop will discuss:
· The status of PV manufacturing in individual companies, as well as their plans for 2021-2022
· What PV manufacturers require from suppliers and customers
· How Europe's research and development centres can best assist the PV value chain
Fraunhofer ISE holds a strong part in this workshop: Fraunhofer ISE Director Prof. Dr. Andreas Bett will give an overview of PV production in EU with focus on solar cell production. He will also moderate the c-Si technology session.
Within the c-Si solar cell production session, Dr. Jochen Rentsch, Department Head in the Photovoltaics Division at Fraunhofer ISE, will feature the recently published 5 GW Greenland project, a vertically integrated PV production in Andalucia, within which Fraunhofer ISE is the R&D partner.
About EUREC
EUREC was founded in 1991 as European Economic Interest Grouping (E.E.I.G.) with the goal of improving the quality and scope of European research and development in renewable energy technologies. Its members are prominent research and development (R&D) groups spread across Europe, operating in all renewable energy technologies (wind, biomass, small hydro, marine, geothermal, photovoltaics, solar thermal electricity, and solar thermal heating and cooling). These R&D centers also conduct research into supporting technologies such as energy efficiency, storage, distribution and integration, and undertake studies to evaluate the social and economic aspects surrounding renewable energy.