Presseinformation #01
Fraunhofer ISE erhält hochdotierten Zayed Future Energy Prize 2014
Prof. Dr. Eicke R. Weber, director of the Fraunhofer Institute for Solar Energy Systems ISE, received the Zayed Future Energy Prize 2014 from His Highness Sheikh Khalifa Bin Zayed Al Nahyan, Crown Prince of Abu, on behalf of the Institute. The prize, endowed with 1.5 million US dollars, was awarded to the Fraunhofer ISE yesterday during the World Future Energy Summit in Abu Dhabi. From the three finalists, Fraunhofer ISE was selected as the winner in the category Non-Governmental Organization (NGO). The Institute was founded over thirty years ago and today is Europe's largest solar energy institute. The candidates were selected based on their impact affecting tangible industrial, social or environmental changes as well as their leadership in the field. Further criteria are their long-term vision and innovation potential. The award ceremony took place on the evening of January 20, 2014 in Abu Dhabi, on the occasion of the Sustainability Week.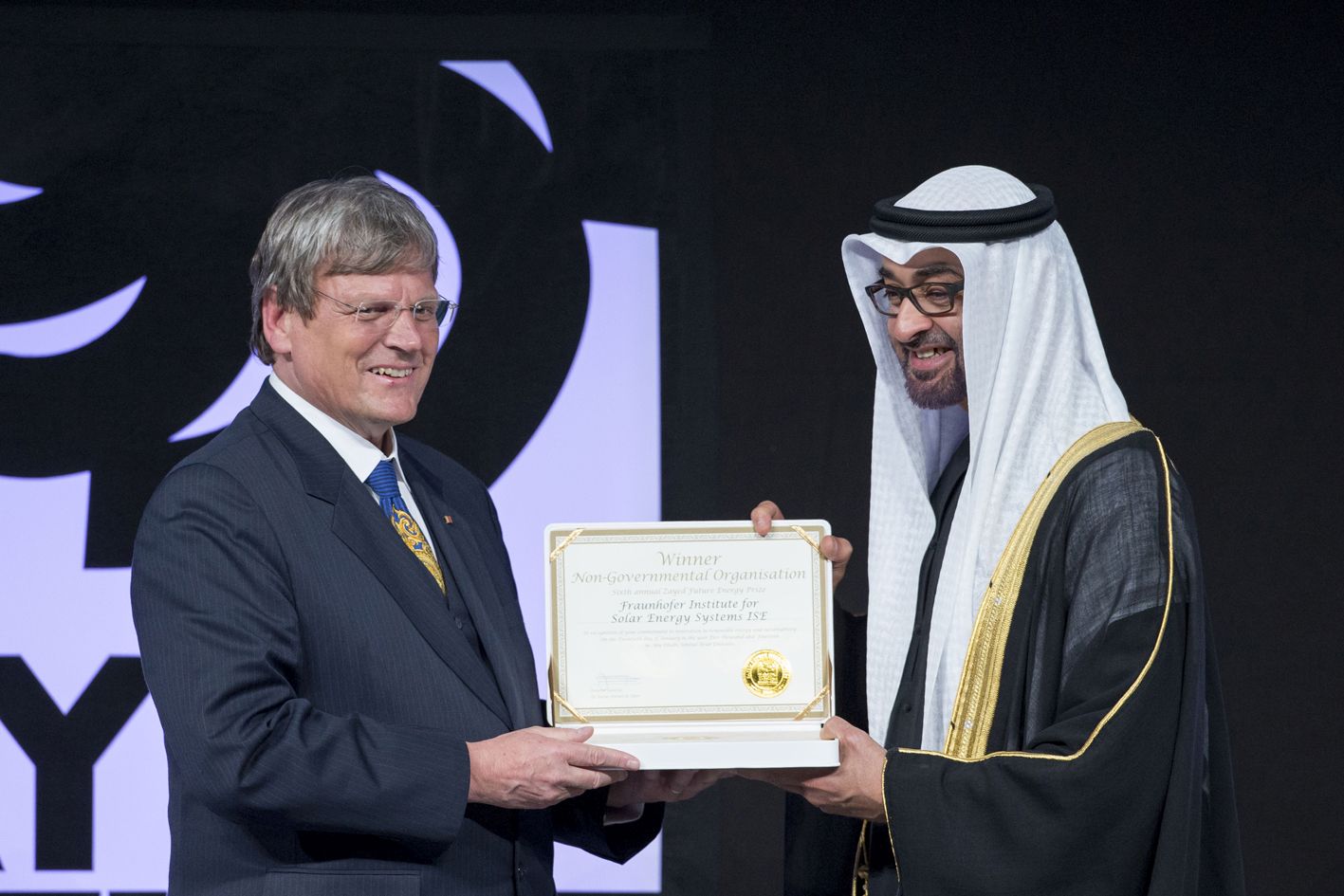 "We are extremely pleased to receive the Zayed Future Energy Prize as a recognition of Fraunhofer ISE's work towards achieving a cost-effective renewable energy supply." He adds: "This highly endowed prize will allow us to apply our research to assist those countries that have not yet started the energy transition. For example, we can further develop and adapt our energy system analysis and supply models to consider other regions in the world. Thus, we can provide support in affecting a smooth and cost-effective transition towards a sustainable energy system."
For Abu Dhabi, one of the world's major energy providers, renewable energy is a key topic. Every year, the Emirate Abu Dhabi offers the Zayed Future Energy Prize to underscore the importance of this topic and to honor the legacy of Sheikh Zayed bin Sultan Al Nahyan, the first president of the United Arab Emirates and emir of Abu Dhabi. The prize is awarded to enterprises, NGO's and educational institutions from around the world as well as to selected persons for their lifework.
Fraunhofer ISE was one of three finalists. Also nominated were the British organization Practical Action and the World Resources Institute (WRI), USA.
More information on the Zayed Future Energy Prize: