Düsseldorf, Germany

/

10/23/2018

-

10/26/2018
glasstec - International Trade Fair for Glass Production - Processing - Products
Hot Topics at glasstec 2018:
Industry 4.0

Thin glass

Facades and smart glass

Crafts and interior design
These hot topics will play a central role at glasstec 2018 and will be presented by our exhibitors as well as in numerous conferences and our special shows and will inspire you with new products, applications, solutions and approaches to thinking.
At glasstec 2018, Fraunhofer ISE will present the prototype of a novel solar thermal blind in the product category "Solar architecture and building integrated photovoltaics". Further information on this development can also be found in the blog post of our research blog "Innovation4E":
Worldwide innovation: A venetian blind that supplies solar thermal energy
Blog post by Christoph Maurer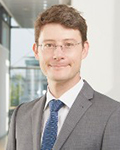 The newly developed solar thermal venetian blind uses excess heat and supplies it to the building's hot water storage tank via heat pipes built into the slats. This also reduces the temperature of the surface on the room side and the cooling demand of the building. As a multifunctional façade element, the solar thermal venetian blind not only ensures a pleasant room climate and good glare protection, but also reduces the energy demand of the building, e.g. for hot water or air conditioning.